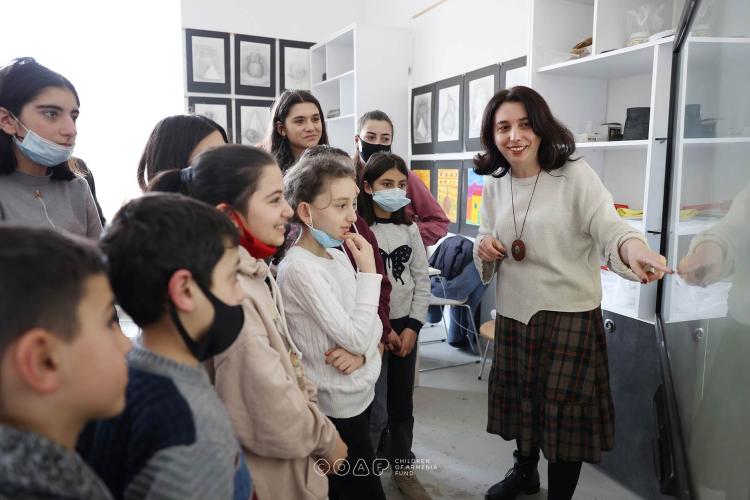 Back
Preserving Heritage through Miniature Art: The Miniature Painting and Design Project at the Matenadaran
News
28 July 2023
The Miniature Painting and Design project, supported by the H. Hovnanian Family Foundation, celebrated the rich heritage of Armenian medieval miniature art. Running from March 1, 2022, to March 25, 2023, this educational program aimed to inspire young artists aged 11 to 16 through practical and theoretical classes.
Led by researchers and art historians from the Matenadaran, theoretical lectures delved into the intricacies of Armenian miniature art, with a special focus on Toros Roslin, one of its most prominent representatives. Combining traditional and digital art techniques, the project provided participants with a unique opportunity to merge classical Armenian miniature art with modern graphic design principles.
Working with two of Roslin's illuminated manuscripts, the students practiced reproduction and improvisation techniques, gaining insights into his artistry's color and style features. Beyond the brushstrokes and digital designs, the project encouraged the participants to delve into the historical context of the Cilician miniature art school.
Through individual research papers, the young artists explored the school's formation, prominent representatives, and unique artistic features. The researchers and art historians at the Matenadaran engaged in thoughtful discussions with the students, fostering a deeper appreciation for the rich artistic heritage they were now becoming a part of. Culminating in an exhibition on March 25, 2023, the project showcased the students' impressive creations, which received widespread acclaim and appreciation.
This project nurtures the talents of young minds and fosters a deep understanding of Armenia's artistic heritage. The legacy of Toros Roslin and the Cilician Miniature school lives on, inspiring generations to embrace their heritage and create a brighter artistic future.
To find out whether your NGO is eligible for Armenian Grants, you can complete the Eligibility Quiz.