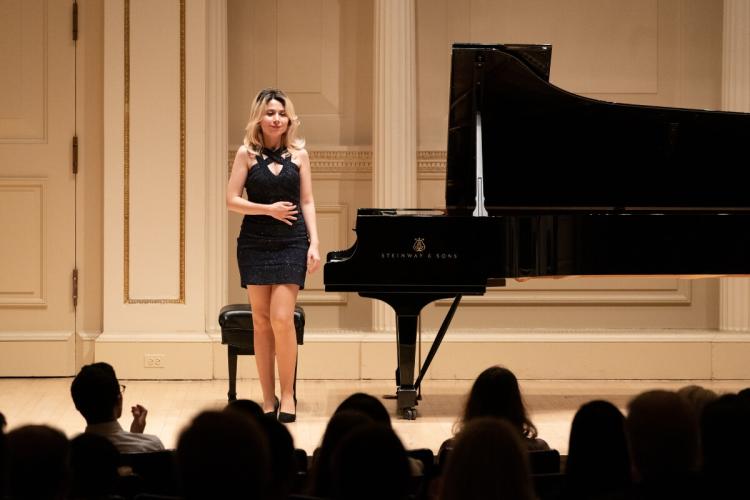 Back
Making Dreams a Reality: Zaruhi Karamijyan's Unforgettable Performance at Carnegie Hall
News
18 September 2023
Dreams have the power to transcend boundaries, connect cultures, and create lasting memories. For pianist Zaruhi Karamijyan, the dream of performing at Carnegie Hall had been nurtured for nearly three years. By applying to our Armenian Fellowship grant, this dream recently turned into reality.
Zaruhi Karamijyan has been playing the piano for 16 years since she was 6 years old. She gave her first solo concert at the age of 16 and has been giving solo concerts every year since. In 2018, Zaruhi entered Yerevan Komitas State Conservatory. Having graduated with high marks, she is now pursuing her Master's degree.
On June 27, 2023, Zaruhi was invited to perform at the illustrious Carnegie Hall stage. She showcased her prowess by performing Khachaturian's Poem and Rachmaninoff's Etude-tableau op.33 no.6. The significance of this moment was not lost on her – she stepped onto the same stage where Rachmaninoff himself once performed, adding an extra layer of historical resonance to her accomplishment.
"The acoustics were great; I have never experienced such a thing at other halls," she explains with joy. Her dedication and talent were immediately evident, earning her the first prize for her mesmerizing performance. The audience was captivated, and her execution left an indelible impression on everyone present.
What makes Zaruhi's achievement even more remarkable is her dedication to showcasing her Armenian heritage by performing pieces by Armenian composers. "I am proud that I could play Armenian music on that famous stage," she expresses with pride.
Zaruhi's journey was not limited to her performance alone. She spent a week in New York City, a time she describes as "remarkable." Her days were filled with practice sessions at Opera America, where she further honed her craft. "I am grateful to the H. Hovnanian Foundation for helping me realize my ambition," she explains.
The H. Hovnanian Family Foundation's Armenian Fellowships support and nurture talents within the Armenian community. Through their initiatives, they empower individuals like Zaruhi to achieve their dreams and share their unique gifts with the world. Zaruhi's experience at Carnegie Hall serves as an inspiring reminder of the impact that dedicated support can have on shaping the future of artists and their artistic contributions.
If you are Armenian and a talented student, professor, NGO leader, artist, athlete, academic, public health worker, or expert in any other field, apply for our Armenian Fellowship grant.