Founders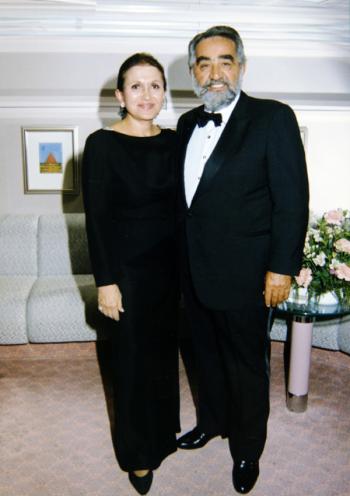 Founders
Hirair and Anna Hovnanian
The life story of founders Hirair and Anna Hovnanian can only be described as the quintessential American Dream story. Both of their fathers were Armenian Genocide survivors. They met in 1955 at an Armenian dance in Asbury Park, New Jersey. Hirair had recently emigrated from Baghdad on a Greek shipping freighter and was working three jobs to put himself through Villanova University. Anna Hamparian, born and living in Queens, New York, had recently graduated from the Fashion Institute of Technology. An anecdote from that Asbury Park weekend that Anna was never tired of telling, had them with a group driving through the neighboring luxury town of Deal, with its grand oceanfront homes, which all admired one by one. Hirair announced, "Anna, one day I'm going to buy you one of these houses." The group started laughing, as they had just pooled their change for gas. Anna responded in all seriousness: "I know you will." And 20 years later he did just that- he bought his wife an oceanfront estate in Deal, NJ.
Hirair and Anna married in 1956, had five children and five grandchildren. Over the course of their shared lifetime they devoted themselves to loving their family, enriching people's lives, proudly advancing Armenian causes, and amassing a fortune built on Hirair's extraordinary work ethic and Anna's unwavering support.
After graduating from Villanova with a BA in civil engineering, Hirair was working for the Connecticut Turnpike Authority and Anna was home with their first child. Their fate changed in 1958 when Hirair visited a building site in Toms River, NJ, where his cousin was constructing a home to sell. He decided to do the same, quit his job, bought land and started building. The young couple worked hard with Anna home raising their growing family and Hirair on the building site almost 24 hours a day. He was later joined by his three brothers. After several successful years working with them, in 1963 Hirair formed his own company, Hovsons, Inc. In that first year, Hovsons built 74 homes, and Hirair realized that eighty percent of the homebuyers were retirees. At the same time, he noted his father's insistence on knowing exactly the property lot lines of the home that Hirair had purchased for him. Hirair had an epiphany that changed his future.
He is referred to in books as one of the innovators of the concept of large-scale adult communities of single-family homes located on individual lots. Tens of thousands of adult community homes were built by Hirair Hovnanian in New Jersey, Florida and California. Over his last three decades, his business activities were diversified to include the development of healthcare facilities, major retail centers, office complexes, rental apartments and a 7,200-acre mining business.
In addition to his corporate business achievements, Hirair Hovnanian was involved in numerous charitable and civic activities. He served as Chairman of the Armenian Assembly's Board of Trustees for decades and was a founding member of the Hayastan All Armenian Fund. Along with his contributions of time, his charitable contributions reached over fifty million dollars during his lifetime.
Supporting him always, in both his business and philanthropy, was Anna. Hirair always credited his success to his wife's fortitude, confidence and loyalty, which inspired his grand endeavors, tremendous risks, and monumental achievements. Anna gracefully handled the full responsibilities of wife and mother, while at the same time continuing to develop her gift as an extraordinary artist. She drew and painted the life around her, and had an exhibition of her artwork in 2012 in Yerevan, Armenia, accompanied by a biographical book.
The commitment of Hirair and Anna to Armenia cannot be overstated. Even though neither of them had any familial connection to the country, in 1999 they moved to Armenia to a magnificent home they had built there, and they remained there for the rest of their lives; Anna passing in the fall of 2018 and Hirair passing in the spring of 2021. They are both laid to rest on the grounds of Saint Anna Church, in downtown Yerevan, which Hirair built in 2015 to honor his wife.